Y Watanuki vs W Kwon Soon Head to Head – Detailed Match Preview
Match Synopsis: The Tennis Tips UK team preview Watanuki vs Kwon Soon which is a match scheduled to be played on Wednesday morning (00:30 GMT). This will be the first event of 2019 for both players so there is very little form data to work with on this occasion. Bookmakers have priced Watanuki as a narrow favourite. It is his first time at the Australian Open though whereas his opponent has competed once before so is familiar with the court speed and conditions in a competitive environment. This could prove to be a significant factor.
Watanuki vs Kwon Soon Prediction Odds, Betting Markets, Live Stream & Bookmaker Coverage: This match will be extensively covered by all major bookmakers and exchanges including Bet365, Betfair, William Hill, Paddy Power and Pinnacle. There are over forty bookmakers currently offering odds but this will change over the coming hours. Match Winner, Set Betting and Handicap markets are available. Stake limits will likely apply as lower ranked players are considered higher risk from a bookmakers persecutive in relation to match fixing. For funded accounts most UK based bookmakers will offer a free live stream of this match. The Australian Open is also covered by most major sports broadcasters around the world.
Tennis Tips UK have a +35% ROI from 2013 to present | Full Results >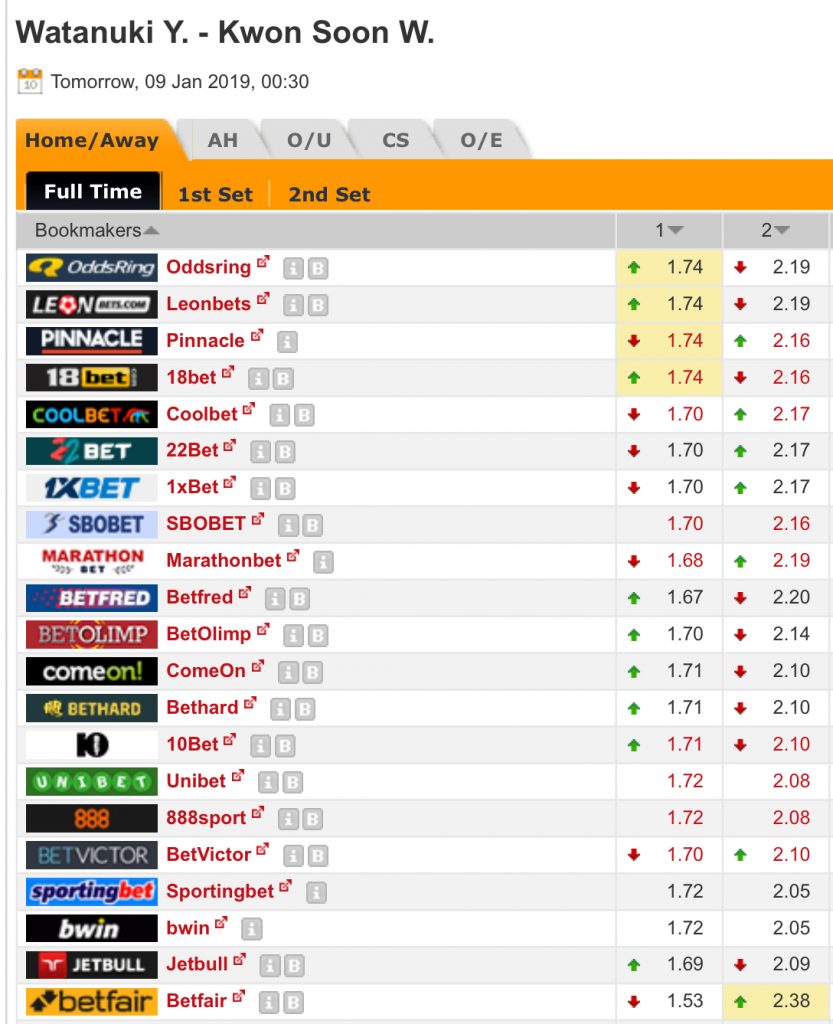 Watanuki is priced around 1.74 which implies a win probability of around 57.50%.
Watanuki vs Kwon Soon Head to Head & Prediction – Player Comparison Table
Data correct as of Tuesday 8th January 2019. Sources: Tennis Explorer, ATP Official, Tennis Tips UK Analyst Research. Looking for Regular Profitable Tips? Find out about the 7 Day Trial
Watanuki vs Kwon Soon Head to Head H2H: 1-1. Kwon won the most recent meeting at the 2017 Kobe Challenger in three sets.
Player Ranking: Kwon is ranked at 239 and Watanuki is above at 192 as of the time this match is scheduled for. They have very similar attainment levels on average across the season – mainly competing on the challenger tour.
| | | |
| --- | --- | --- |
| Tennis Tips UK Metrics: Watanuki vs Kwon Soon | Watanuki | Kwon Soon |
| Overall Rating | 76/100 | 61/100 |
| Court Time (Fatigue) | Low | Low |
| Form (Recent Matches) | Poor | No Data |
| Physical Rating | 56/100 | 54/100 |
| Projected Odds | 1/3 (1.33) | 3/1 (4.00) |
| Implied Win Probability | 75.20% | 24.80% |
| Surface Record | Excellent | Good |
| Past Record @ Event | N/A | Average |
| Value? (Based on Current Odds) | YES | NO |
PLAYER COMPARISON KEY: METRIC DEFINITIONS
Overall Rating – This refers to the score give from 1-100 for each player based on all metrics stated and analysed.
Court Time – Fatigue is a key factor. This looks at recent matches and the total time spent in these encounters. The physical intensity required is also considered.
Form – Percentage showing the win rate for each player from their five most recent matches. This includes all events including exhibitions.
Physical Rating – Fitness metric that quantifies injury concerns and total court time for each player.
Projected Odds – The fair price that Tennis Tips UK traders would set for each player given their implied win probability. This doesn't include any bookmaker margin simulation. This metric can be used to identify market value. For example if the actual available odds are higher than those projected for a player.
Surface record looks at performance on the surface specifically. The rating is based on win percentage (factoring in opponent quality). Data based on past 12 months.
Description: Watanuki vs Kwon Soon Australian Open 2019 Head to Head (H2H)